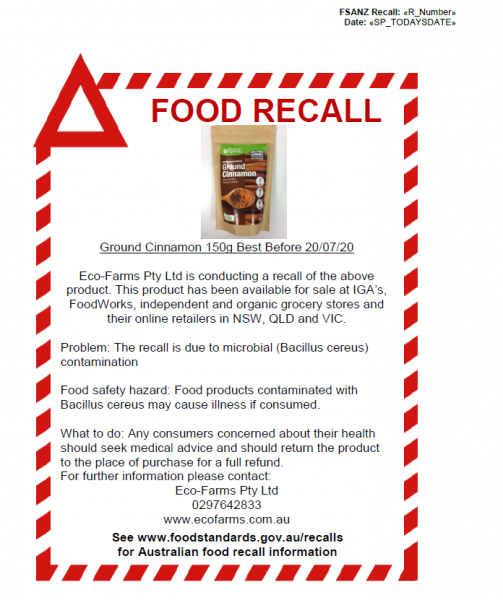 Dear Customer
During routine testing of Cinnamon 150g BBD 20/7/2020 with a batch number 270001  Eco Farms has become aware that there is levels of the bacteria Bacillus cereus which are outside the range allowable for human consumption.
In order to maintain a high quality standard for all Absolute Organic products we will be withdrawing all the stock off shelf immediately.
Your Eco Farms Sales Representative will remove all stock in store on their next visit. In the interim please remove all Absolute Organic Cinnamon powder 150g from the shelf and store rooms until they can pick up.
Alternatively call your local Eco Farms office to advise of number of units to credit, credits will not be processed without returned physical units.
Please see attached recall notice and please place in a visible spot in store to notify any customers that may have purchased.
Please don't hesitate to contact either myself or your sales rep if you have any queries.