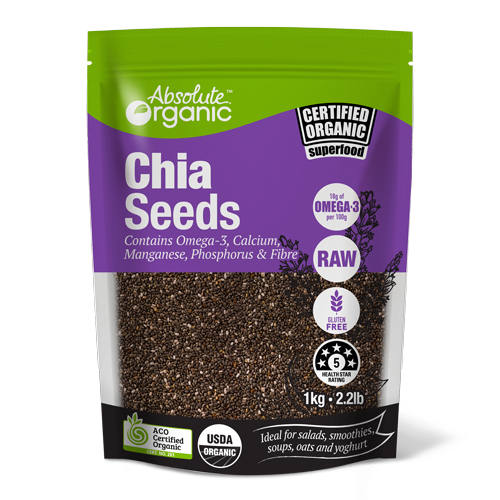 Product Description
Ideal for salads, smoothies, mueslis and cereals.
Additional information
Ingredients

Certified organic chia seeds.

Allergens

May contain traces of nuts and other seeds.

Country of Origin

Packed in Australia with ingredients imported from South America.

Storage Conditions

To maintain the freshness of your chia seeds store them in a dry place under 20°C and keep it refrigerated after opening.

Nutrition Information

Serving size: 20g, Servings per pack: 50
Energy: 346kJ
Protein: 3.6g
Total Fat: 5.5g
– Saturated: 0.5g
– Omega 3: 3.6g
Carbohydrate: 1.8g
– Sugars: 0.04g
– Fibre 6.6g
Sodium: <1mg
Phosphorus: 174mg
Calcium: 142mg
Manganese: 2mg

Serving suggestions

1) Sprinkle chia seeds on your favourite cereal, muesli, yoghurt or salad.
2) Add chia seeds to your homemade muffin, cookie or bread recipes.
3) Mix chia seeds with water and add a squeeze of lemon or lime juice to make a healthy drink.
4) Chia pudding: Combine 2 cups of almond milk, ½ cup chia seeds, ½ teaspoon vanilla extract and 1-2 tablespoons of maple syrupor honey in a bowl. Stir well, cover it and store overnight in the refrigerator. Top with fresh fruit and enjoy!