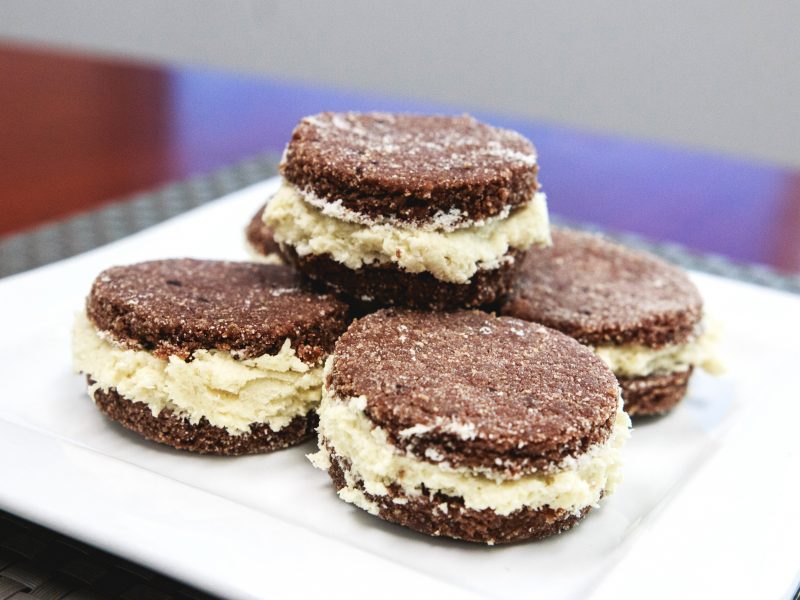 Handmade Rawreos – Raw Vegan Oreos
Healthier dessert recipe, indulge in these guilt free treats. Pure heaven in every bite
Ingredients
Ingredients Cookies:
½ cup Absolute Organic Almond Meal
½ cup Absolute Organic Coconut Flour
¼ cup Absolute Organic Cacao Powder
6 large Absolute Organic Pitted Medjool Dates
5 tablespoons melted Absolute Organic Coconut Oil
½ teaspoon Vanilla Essence
Ingredients Filling:
½ cup Absolute Organic Desiccated Coconut
2 tablespoons Absolute Organic Coconut Cream (solid layer on top)
2 tablespoons Absolute Organic Maple Syrup
½ teaspoon Vanilla Essence
Instructions
Blend all cookie ingredients together in a food processor to form a dough. If the mixture isn't binding well to form a dough, gradually add more coconut oil.
Roll out the dough and cut into small even circles.
Place cookies into the freezer for 10 minutes allowing them to firm.
Blend all filling ingredients in a food processor until a creamy texture is formed.
Spread filling onto a cookie then place another cookie on top sandwiching the filling between them. Serve cold or at room temperature.
Related Recipes
Recent Posts
Recent Recipes
This recipe turns out into a deliciously moist and lightly spiced cake,...

This Indian inspired red curry not only has an aromatic and delicious...

Aromatic, creamy and delicious, this recipe is the perfect accompaniment for curries,...