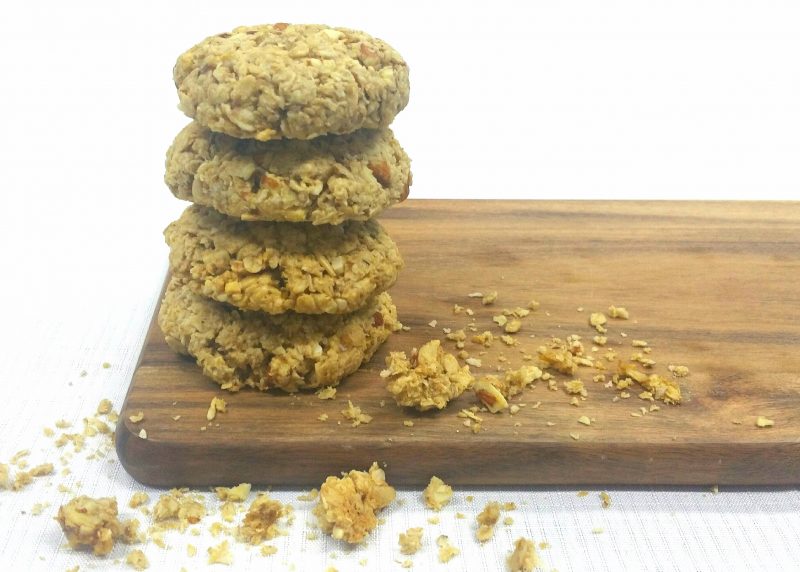 Healthier ANZAC Cookies
Ingredients
2 cups Absolute Organic Oats
1/2 cup Absolute Organic Desiccated Coconut
1/2 cup Absolute Organic Almonds – chopped
4 tablespoons Absolute Organic Rice Syrup (for a sweeter taste use Absolute Organic Honey instead)
2 tablespoons Absolute Organic Peanut Butter
2 tablespoons Absolute Organic Coconut Oil – melted
3 tablespoons Hot Water
1 teaspoon Vanilla Extract
1 teaspoon Bi-Carb Soda
Pinch of Sea Salt
Instructions
Pre-heat oven to 150 degrees Celsius. Line a tray with baking paper.
Add dry ingredients (oats, desiccated coconut, almonds, bi-carb and salt) into a bowl or food processor. Mix until combined.
Add wet ingredients (coconut oil, peanut butter, rice syrup/honey, water and vanilla extract) into the dry ingredients. Combine together until mixture sticks together.
Take a spoonful of mixture and form into a small ball, then place onto lined baking tray. Flatten with the back of a spoon to form a cookie shape.
Bake for 15-20 minutes until cookies are cooked all the way through. Let them cool completely before serving.