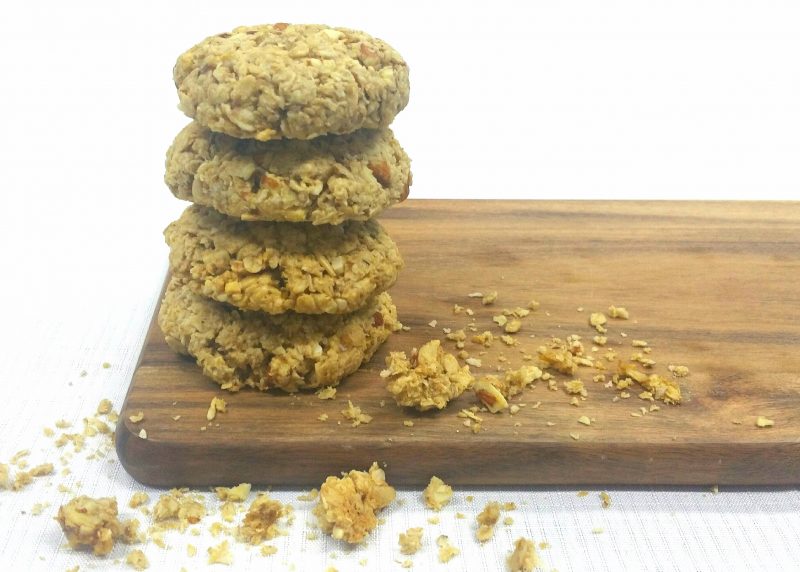 Healthier ANZAC Cookies
Ingredients
2 cups Absolute Organic Oats
1/2 cup Absolute Organic Desiccated Coconut
1/2 cup Absolute Organic Almonds – chopped
4 tablespoons Absolute Organic Rice Syrup (for a sweeter taste use Absolute Organic Honey instead)
2 tablespoons Absolute Organic Peanut Butter
2 tablespoons Absolute Organic Coconut Oil – melted
3 tablespoons Hot Water
1 teaspoon Vanilla Extract
1 teaspoon Bi-Carb Soda
Pinch of Sea Salt
Instructions
Pre-heat oven to 150 degrees Celsius. Line a tray with baking paper.
Add dry ingredients (oats, desiccated coconut, almonds, bi-carb and salt) into a bowl or food processor. Mix until combined.
Add wet ingredients (coconut oil, peanut butter, rice syrup/honey, water and vanilla extract) into the dry ingredients. Combine together until mixture sticks together.
Take a spoonful of mixture and form into a small ball, then place onto lined baking tray. Flatten with the back of a spoon to form a cookie shape.
Bake for 15-20 minutes until cookies are cooked all the way through. Let them cool completely before serving.
Recent Posts
Recent Recipes
To understand the level of crunchiness of these chips of kale, the...

These Apple Chips are perfect for an evening snack, especially if you...

This recipe turns out into a deliciously moist and lightly spiced cake,...