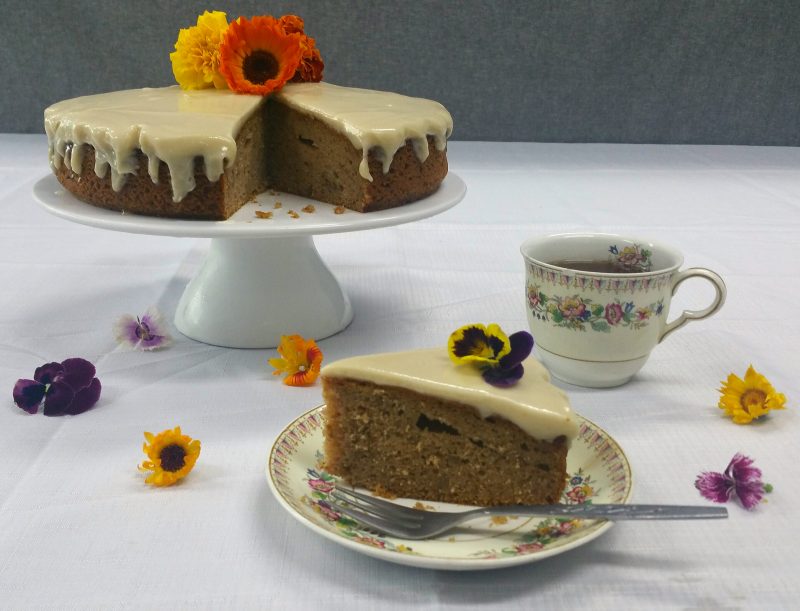 Honey & Walnut Cake with Honey Cream Cheese Frosting
Ingredients
3/4 cup Absolute Organic Walnuts
1 1/2 cups Absolute Organic Plain Flour, sifted
1 cup Absolute Organic Honey
1 cup Jolly Applesauce
3 Fraser Coast Organic Eggs
3/4 teaspoon Bi-Carb Soda
1/4 teaspoon Salt
1 1/2 teaspoon Vanilla Essence
1/2 teaspoon Absolute Organic Cinnamon
Absolute Organic Coconut Oil for pan
Frosting:
1/2 cup Absolute Organic Honey
250g Kingland Soy Cream Cheese
Instructions
Preheat oven to 180 degrees celsius. Coat cake tin with coconut oil and set aside.
Spread walnuts on baking paper and toast until fragrant, about 5 minutes. Remove from oven and let cool. Once cooled roughly chop walnuts in food processor and set them aside.
Blend honey and applesauce in food processor. Next add eggs and blend again until fully combined. Next add sifted flour, bi-carb soda, salt and cinnamon and blend again until all ingredients are well combined.
Add chopped walnuts to mixture and gently pulse into mixture.
Pour batter into cake tin and cook until golden brown and a toothpick inserted into centre comes out clean, about 55 minutes. Once cake has cooked transfer to a wire rack and let cool completely.
In a food processor blend together cream cheese and honey.
Ice cake with frosting and decorate as desired. We used edible flowers on top.
Recent Posts
Recent Recipes
To understand the level of crunchiness of these chips of kale, the...

These Apple Chips are perfect for an evening snack, especially if you...

This recipe turns out into a deliciously moist and lightly spiced cake,...