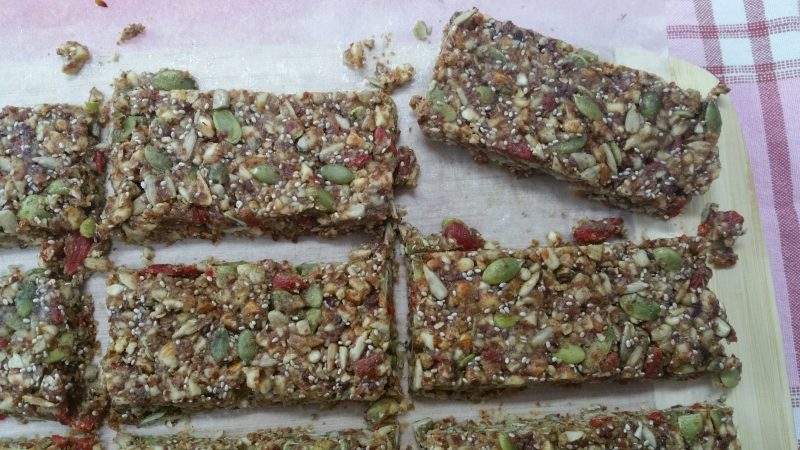 Maca Energy Bars
Ingredients
1 cup Absolute Organic Almonds
1/2 cup Absolute Organic Sunflower Seeds
1/2 cup Absolute Organic Flax Seeds
1/2 cup Absolute Organic Pumpkin Seeds
2 tablespoons Absolute Organic Chia Seeds
1/2 cup Absolute Organic Goji Berries
2 tablespoons Absolute Organic Maca Powder
1/4 cup Absolute Organic Maple Syrup
1/4 cup Absolute Organic Coconut Oil
1/3 cup Absolute Organic Hulled Tahini (or other nut butter - Peanut Butter may bring a stronger taste to the bars)
1/4 – 1/2 teaspoon Sea Salt
Instructions
Line a baking tray with baking paper.
Grind flax seeds until they become a fine meal (we used a blender for this step). Add this to a bowl with the sunflower seeds, maca powder, chia seeds, pumpkin seeds, goji berries and salt.
Coarsely grind almonds in a food processor and add these to the bowl.
In a saucepan add the maple syrup, coconut oil and hulled tahini (or other nut butter). Mix together gently until well combined. Add this to the bowl of dry ingredients.
Spread mixture onto baking tray ensuring you pack down mixture tightly.
Place into the refrigerator for about one hour until set. Once ready, cut into bars to serve.