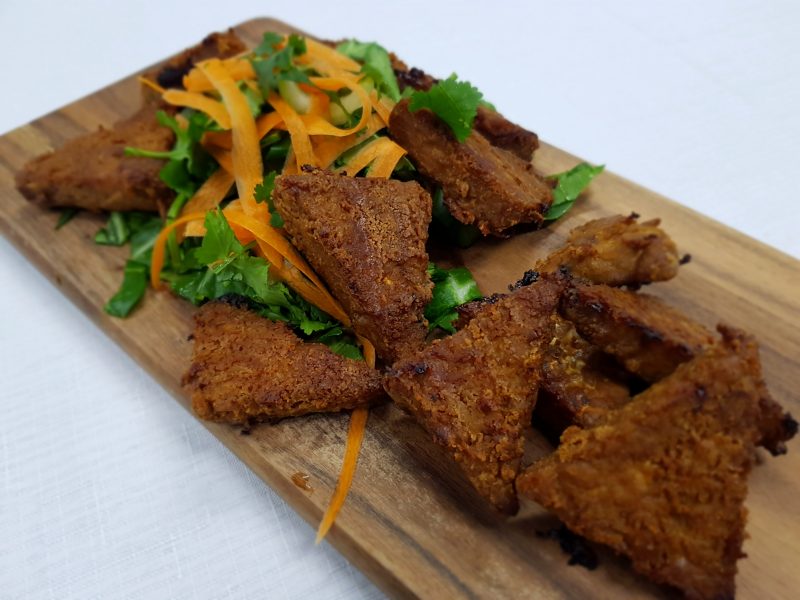 Marinated Tempeh
Ingredients
250g Fresh Tempeh
1/4 teaspoon Absolute Organic Chilli Powder
1 1/2 tablespoon Absolute Organic Raw Sesame Oil
2 tablespoons Absolute Organic Tahini or Peanut Butter
2 tablespoons Absolute Organic Tamari
2 tablespoons Lime Juice
3 tablespoons Absolute Organic Maple Syrup
Instructions
Fill a saucepan with 2.5cm of water and bring to a low boil over medium heat.
Steam tempeh for 10-12 minutes, turning halfway.
Remove tempeh from water and rinse then pat dry. Cut into small triangles (the smaller the pieces the better they can soak up the marinade).
Whisk together all marinade ingredients until combined - chilli powder, sesame oil, tahini, lime juice, tamari and maple syrup.
Add the sliced tempeh to the marinade and toss well to coat. Cover and refrigerate for at least 2 hours (24 hours is preferable) so the flavour becomes infused.
Pre-heat the oven to 190 degrees Celsius and line a tray with baking paper. Place marinated tempeh onto the lined tray, keeping any leftover marinade aside.
Cook for 20-30 minutes until golden brown. Use leftover marinade to coat tempeh once it's baked.
Serve with Asian salad or noodles.
Recent Posts
Recent Recipes
To understand the level of crunchiness of these chips of kale, the...

These Apple Chips are perfect for an evening snack, especially if you...

This recipe turns out into a deliciously moist and lightly spiced cake,...