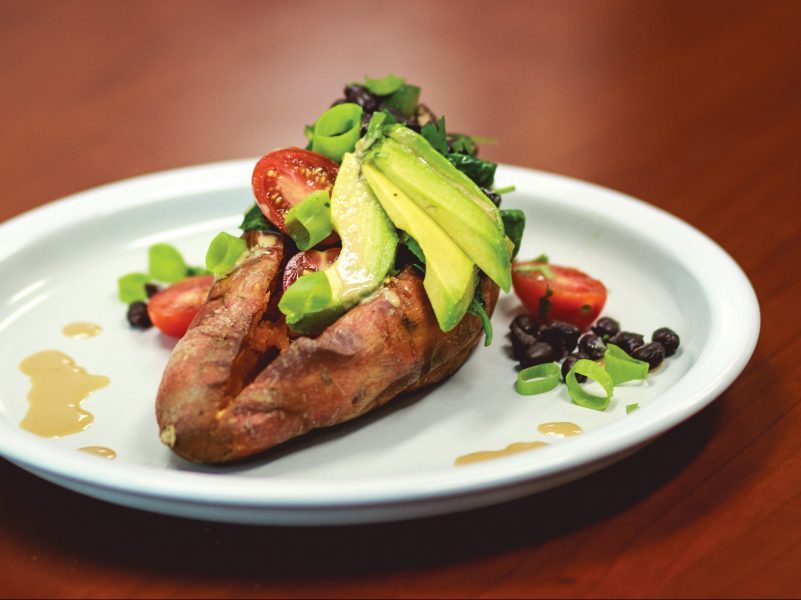 Mexicano Stuffed Sweet potatoes
Hearty stuffed sweet potatoes loaded with  Mexican-inspired toppings.
Ingredients
2 Sweet Potatoes
½ cup Absolute Organic Tinned Beans
¼ cup chopped Brown Onion
¼ cup chopped Red Capsicum
½ cup sliced Mushroom
½ sliced Avocado
150g Fresh Baby Spinach
10 Cherry Tomatoes
2 chopped Spring Onions
Zesty Tahini Dressing:
2 tablespoons Absolute Organic Tahini
1 tablespoons Absolute Organic Tamari
1 tablespoons Absolute Organic Apple Cider Vinegar
½ tablespoon Absolute Organic Maple Syrup
1 tablespoons Lemon Juice
1 clove Garlic
Optional: 1-2 tablespoons Water for a thinner consistency
Instructions
Preheat oven to 200°C.
Pierce sweet potatoes several times with a fork and bake for 45 minutes until crispy on the outside and tender on the inside.
While sweet potatoes are baking, blend together zest tahini dressing ingredients and then set aside.
Sauté' onion, mushroom and capsicum until soft. Add spinach and cook until spinach has just wilted. Remove from heat and set aside.
Remove sweet potatoes from oven, cut them in half and roughly mash each side with a fork. Sprinkle a little salt and pepper to season if you would like.
Load sweet potatoes with toppings! Start with the sautéed onion mixture then add the beans, cherry tomato, avocado, spring onion and coriander.
Drizzle zesty tahini dressing over each sweet potato half and serve immediately.
Related Recipes