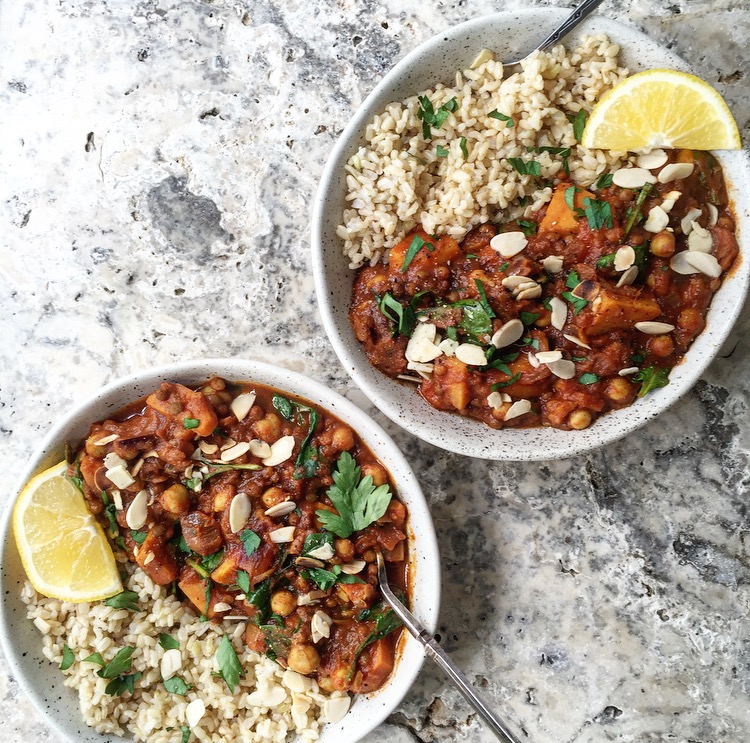 Moroccan Spiced Sweet Potato, Chickpea & Lentil Stew
Ingredients
2 Tbsp extra virgin olive oil
2 red onions, diced
2 cloves Absolute Organic garlic, crushed
2 ½ tsp Absolute Organic ground cumin
2 ½ tsp ground coriander
1 tsp Absolute Organic cinnamon
1 tsp Absolute Organic ground turmeric
1 tsp ground ginger
½ tsp Absolute Organic chilli powder (optional)
500g Absolute Organic sweet potato (approx. 2 small sweet potatoes) peeled and cut into small bite-sized cubes
3 Absolute Organic carrots, finely sliced
750ml (3 cups) vegetable stock
2 x 400g Absolute Organic Crushed Tomatoes
400g can Absolute Organic chickpeas, drained
400g can Absoloute Organic brown lentils, drained
8 Absolute Organic medjool dates, pitted and roughly chopped
2 cups baby spinach leaves
½ cup almonds, toasted and roughtly chopped, to serve
Cooked brown rice or quinoa, to serve
Flat leaf parsley, roughly chopped, to serve
Flaked almonds, to serve
Sea salt & pepper
Instructions
Heat olive oil in a large saucepan over medium heat. Add the onion and cook for 5 minutes, until softened.
Add the garlic and spices and cook for a further 1-2 minutes.
Add the stock, tomatoes, carrot, sweet potato and season with salt and pepper. Bring to a boil and then reduce heat to low and simmer for 25 minutes.
Add the chickpeas, lentils and dates and cook for a further 10 minutes.
Add the spinach and cook for a further 1 minute, until wilted.
Taste for seasoning and adjust if necessary.
Serve with cooked brown rice or quinoa and top with flaked almonds and a sprinkling of chopped parsley.