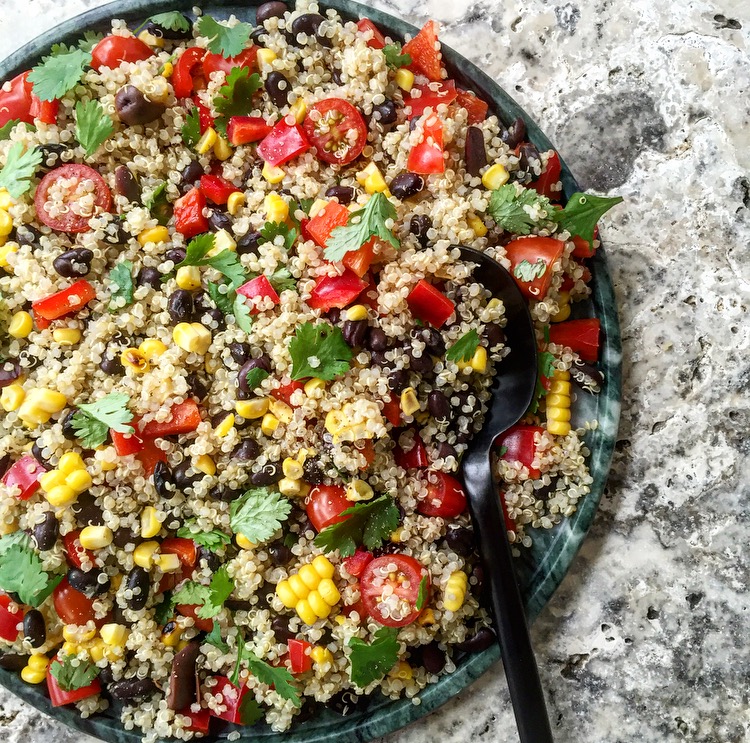 Quinoa & Black Bean Salad
Ingredients
1 cup Absolute Organic white quinoa
1 can Absolute Organic blackbeans, drained, rinsed and drained again
¼ cup Absolute Organic black olives, pits removed
1 cob of Organic corn, husk removed
1/2 cup Organic cherry tomatoes, sliced in half
1 large Organic red capsicum, diced
A handful of Organic coriander leaves
4 Tbsp Absolute Organic extra virgin olive oil
2 Tbsp lime juice
¼ tsp ground cumin
½ tsp Absolute Organic rice malt syrup or honey
Sea salt and pepper
Instructions
Rinse your quinoa under water for 2-3 minutes (this step prevents your cooked quinoa having a bitter taste) then place it in a saucepan with 1½ cups of water and a pinch of salt. Bring to a boil then reduce heat to low, cover and simmer for 12-14 minutes. Remove from heat and allow to stand, covered, for another 10 minutes. Transfer the quinoa into a large salad bowl.
While the quinoa is cooking, heat a frying pan over high heat (do not use any oil) and add the corn. Cook the corn for a few minutes, turning with tongs occasionally, until the kernels are slightly charred and blackened in places. Remove the corn from the pan using tongs and, when it's cool enough to handle, slice the kernels off with a sharp knife.
Add the beans, capsicum, tomato, corn kernels and coriander to the quinoa.
To make the dressing mix together the olive oil, lime juice, cumin and rice malt syrup. Season with salt and pepper, to taste.
Pour the dressing over the salad and toss gently to combine. Garnish with some extra coriander, if desired.