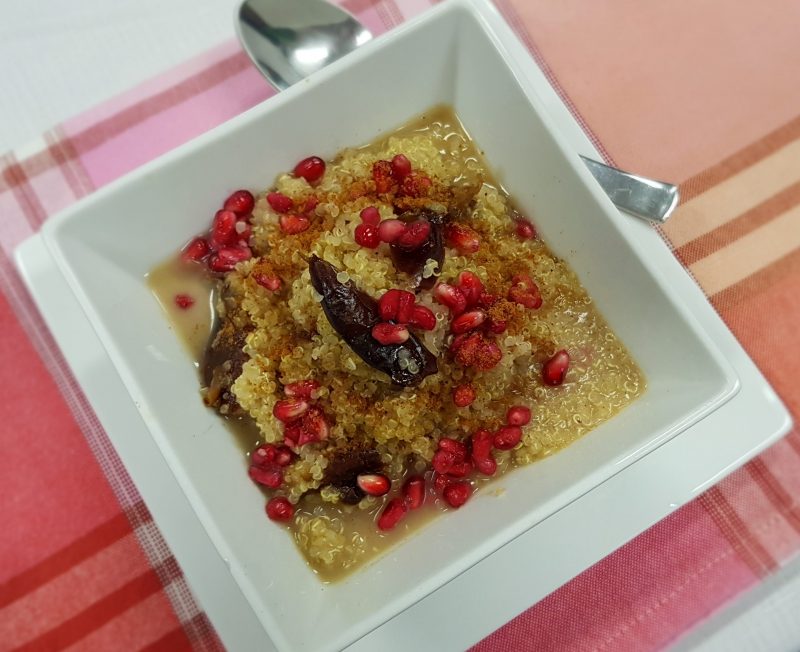 Quinoa Porridge
Ingredients
1 cup Absolute Organic White Quinoa
2 cups Water or Organic Milk
3 Organic Medjoul Dates – roughly chopped
1/2 teaspoon Absolute Organic Cinnamon Powder
1/4 teaspoon Ground Nutmeg
Your choice of toppings – we used Pomegranate Seeds, Absolute Organic Maple Syrup and extra Cinnamon
Instructions
Heat quinoa and water/milk in a saucepan over medium heat. Slowly bring to the boil, stirring continuously.
Add dates, cinnamon and nutmeg. Reduce heat and simmer for 15 minutes.
Turn off heat, cover saucepan with a lid then let sit so the liquid absorbs.
Divide into bowls and top with your choice of fruit, nuts, maple syrup or extra cinnamon. You can add more water/milk if you desire.