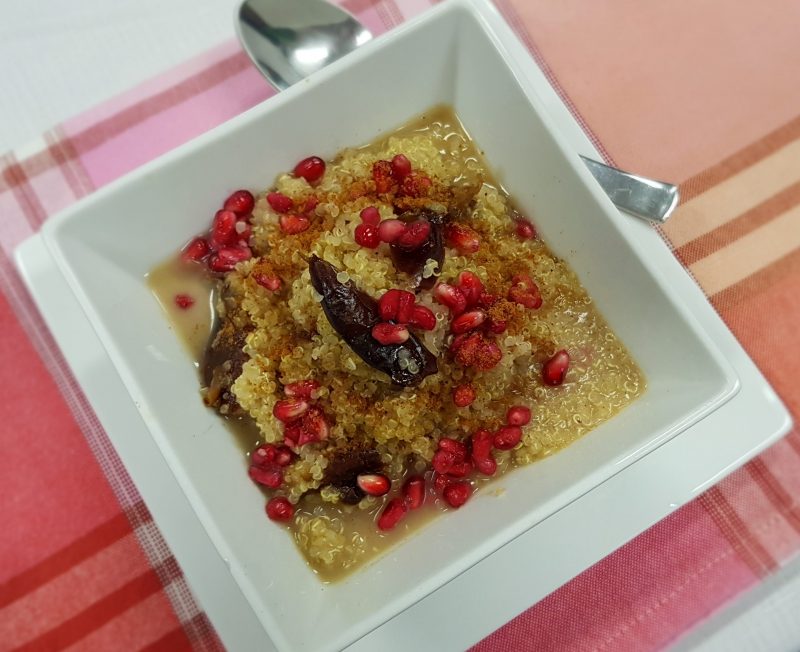 Quinoa Porridge
Ingredients
1 cup Absolute Organic White Quinoa
2 cups Water or Organic Milk
3 Organic Medjoul Dates – roughly chopped
1/2 teaspoon Absolute Organic Cinnamon Powder
1/4 teaspoon Ground Nutmeg
Your choice of toppings – we used Pomegranate Seeds, Absolute Organic Maple Syrup and extra Cinnamon
Instructions
Heat quinoa and water/milk in a saucepan over medium heat. Slowly bring to the boil, stirring continuously.
Add dates, cinnamon and nutmeg. Reduce heat and simmer for 15 minutes.
Turn off heat, cover saucepan with a lid then let sit so the liquid absorbs.
Divide into bowls and top with your choice of fruit, nuts, maple syrup or extra cinnamon. You can add more water/milk if you desire.
Recent Posts
Recent Recipes
To understand the level of crunchiness of these chips of kale, the...

These Apple Chips are perfect for an evening snack, especially if you...

This recipe turns out into a deliciously moist and lightly spiced cake,...