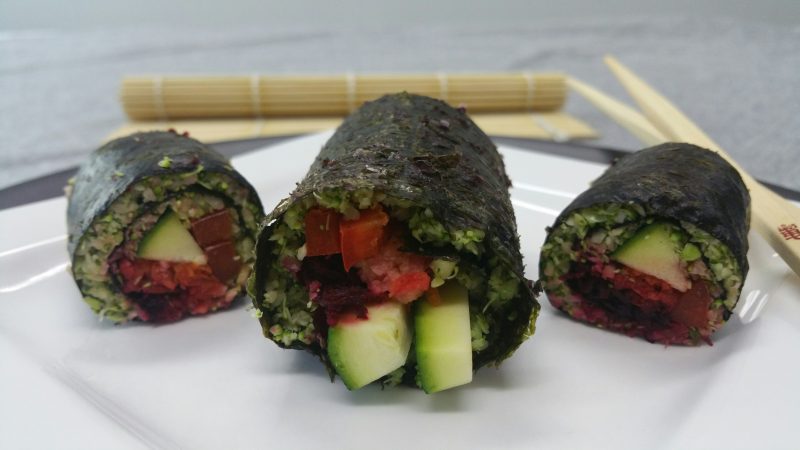 Raw Sushi
Ingredients
1/2 head Organic Cauliflower or 1 head Organic Broccoli
1/2 cup Absolute Organic Cashews
1-2 tablespoons Absolute Organic Apple Cider Vinegar
Fillings of your choice (we used Zucchini sticks, Capsicum sticks, grated Beetroot, grated Carrot and grated Ginger)
Raw Nori Sheets
Small bowl of Water
Absolute Organic Tamari for serving
Instructions
Place cauliflower/broccoli, cashews and apple cider vinegar into food processor and blend until a rice consistency is formed.
Prepare your choice of fillings as needed.
Take a Nori sheet and cover 3/4 with the "rice" mixture, leaving a space at the top. Place your fillings on the lower section of the "rice" mixture. Be careful not to overfill your sushi otherwise it will become difficult to roll.
Dip your finger in the water and run it along the top of the bare Nori sheet to moisten it. This will ensure it sticks closed when the roll has been made.
Using a sushi mat or free-hand, roll the sushi tightly forming a roll. The edge will stick to itself where you have moistened it.
Allow sushi to sit for a few minutes to soften the Nori sheets, then cut and serve.