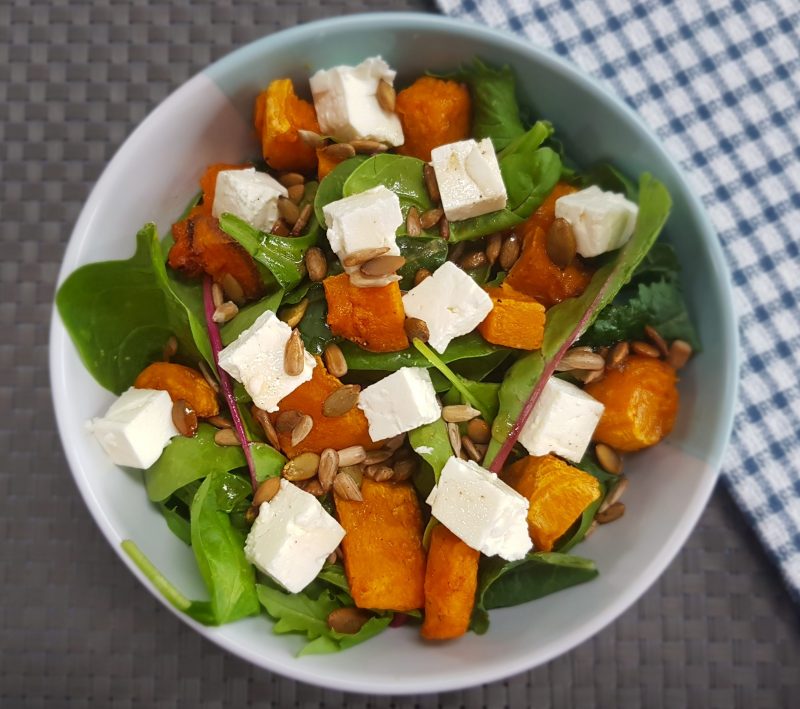 Roasted Pumpkin and Feta Salad
Ingredients
400g Organic Butternut Pumpkin - cubed
75g Absolute Organic Feta - cubed
Organic Salad Leaves
2 tablespoons Absolute Organic Pumpkin Kernels
2 tablespoons Absolute Organic Sunflower Kernels
1/8 teaspoon Absolute Organic Chilli Powder
1-2 tablespoons Absolute Organic Coconut Oil
Pinch of Sea Salt
Dressing:
1 tablespoon Absolute Organic Olive Oil
2 tablespoons Absolute Organic Red Wine Vinegar
2 tablespoons Absolute Organic Honey
1/8 teaspoon Sea Salt
1/8 teaspoon Absolute Organic Black Pepper
Instructions
Preheat oven to 200 degrees Celsius.
Place pumpkin kernels and sunflower seeds in the oven for 5-10 minutes, only until lightly coloured. Remove from oven and let cool.
Place pumpkin on a baking tray with coconut oil and salt, then toss together.
Place pumpkin in oven and cook. After 30 minutes check it's progress. Cook longer if needed, until lightly golden.
Remove pumpkin from oven and sprinkle with chilli powder. Toss together well and let cool.
Make dressing by combining all ingredients into a bowl and whisking together well.
In a salad bowl place salad leaves, pumpkin, feta and seeds. Pour dressing on top and toss salad together lightly.