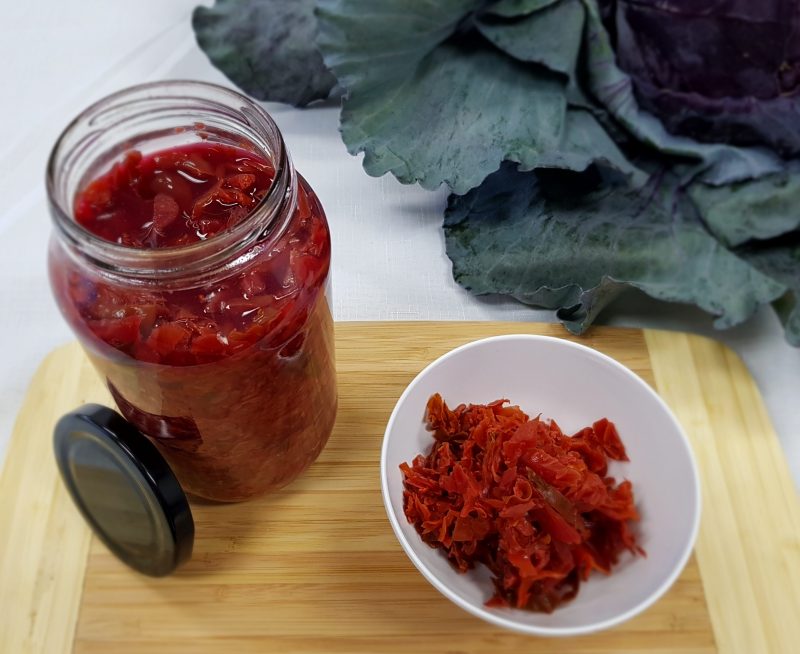 Sauerkraut
Ingredients
1 medium Red/Green Cabbage
1 1/2 tablespoons Sea Salt
3cm piece of fresh Ginger – grated
1/2 tablespoon Absolute Organic Honey or Raw Sugar
1 teaspoon Absolute Organic Turmeric Powder
You will need a 1L jar with a lid
Instructions
Cut cabbage in half and remove cores, then thinly slice it using a food processor or knife.
Place sliced cabbage in a large bowl and add salt, ginger and honey/sugar.
Mix with your hands ensuring you squeeze firmly and push down on the cabbage to encourage the natural water to come out. Do this for about 15 minutes until there is enough water and juices to cover the cabbage once in the jar.
Mix in the turmeric powder.
Put the cabbage into the jar along with the liquid. Ensure the cabbage is submerged in liquid – if there isn't enough, add some water.
Cover with the lid and then leave the jar in a dark place at room temperature for 1-3 weeks. This may take longer during winter.
Check the sauerkraut every day, unscrewing the lid to release any gas build up.
Sauerkraut will be ready when the cabbage becomes soft and tastes sour and tangy. Skim away any white build up that appears on the surface. This is 'Kham' and is a natural and harmless yeast, so there's nothing to worry about.
Once cabbage has sufficiently fermented, seal and store in the fridge for up to 12 months unopened. Once opened it will last for 2 months. Ensure cabbage stays submerged in its liquid and don't heat.