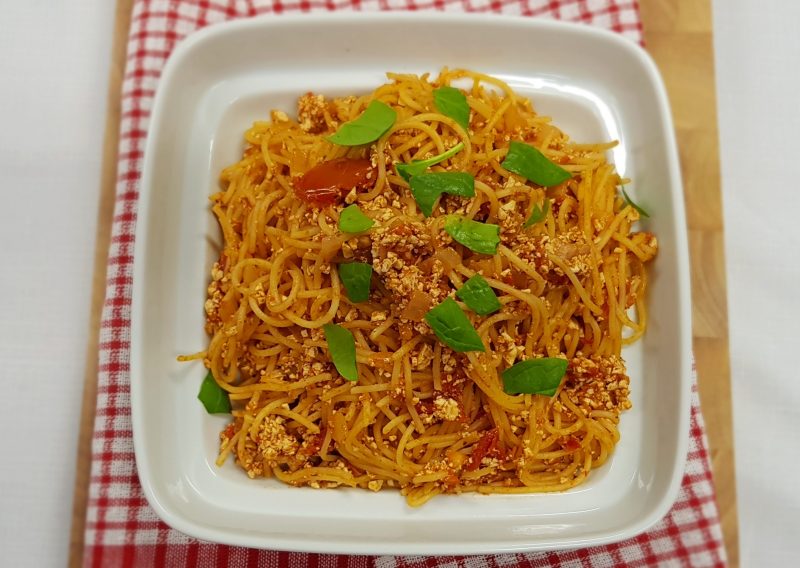 Spaghetti Bolognese
Ingredients
1 packet Absolute Organic Spaghetti
1 tablespoon Absolute Organic Olive Oil
1 Organic Onion
2 Cloves Organic Garlic
1 jar Absolute Organic Tomato Pesto
2 tins Absolute Organic Diced Tomatoes
500g Organic Chicken Mince or Organic Minced Tofu
1 teaspoon Mixed Herbs
1/2 teaspoon Sea Salt
1/2 teaspoon Absolute Organic Black Pepper
Instructions
Put olive oil into a pan on medium heat. Add garlic and onion and cook until soft.
Add the chicken mince or minced tofu and cook until it lightly browns.
Add the pesto and continue cooking for 5 minutes. Next add the diced tomatoes and mixed herbs and cook for a further 10 minutes, stirring occasionally.
Sprinkle in salt and pepper and continue cooking until all flavours are combined, adjusting if needed.
Once Bolognese has cooked put aside and cook spaghetti according to instructions.
Once spaghetti has cooked drain it then leave in the saucepan. Add the Bolognese to the saucepan and mix together with the spaghetti.
Serve into bowls and top with parmesan cheese and basil leaves.