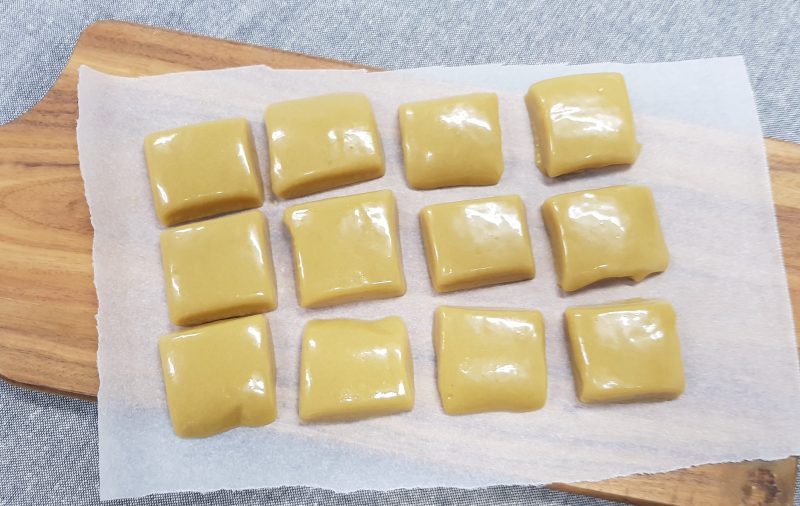 Tahini Toffee
Made with only 4 ingredients, this treat is perfect as a snack, dessert or with a cup of coffee.
Ingredients
1 cup Absolute Organic Honey
3/4 cup Absolute Organic Hulled Tahini
1 teaspoon Vanilla Essence
Optional extras: nuts, dried fruit, cacao etc.
Instructions
Heat honey in a saucepan on medium heat until it is at "soft ball" stage (approx 115 degrees Celsius). To confirm this stage, drop a bit of the honey into a cup of cold water. It should form a sticky and soft ball that flattens when removed from the water.
Have the tahini ready to heat in a separate small pot. Once honey is at the appropriate temperature, set the honey aside and heat tahini to approximately 48 degrees Celsius.
Add the vanilla essence to the honey and any other additions (nuts etc.). Mix well.
Add the warmed tahini to the honey and mix with a wooden spoon to combine. At first it will look separated but after a few minutes, the mixture will come together.
Continue stirring until the mix starts to stiffen; it can take between 6-8 minutes. The less you stir, the stickier it will be! Pour mixture into a baking paper-lined pan or a pan with a removable bottom.
Let cool to room temperature and wrap tightly with baking paper. Leave in refrigerator for up to 36 hours so sugar crystals can form.
Remove from pan and cut into pieces with a sharp knife.
Related Recipes