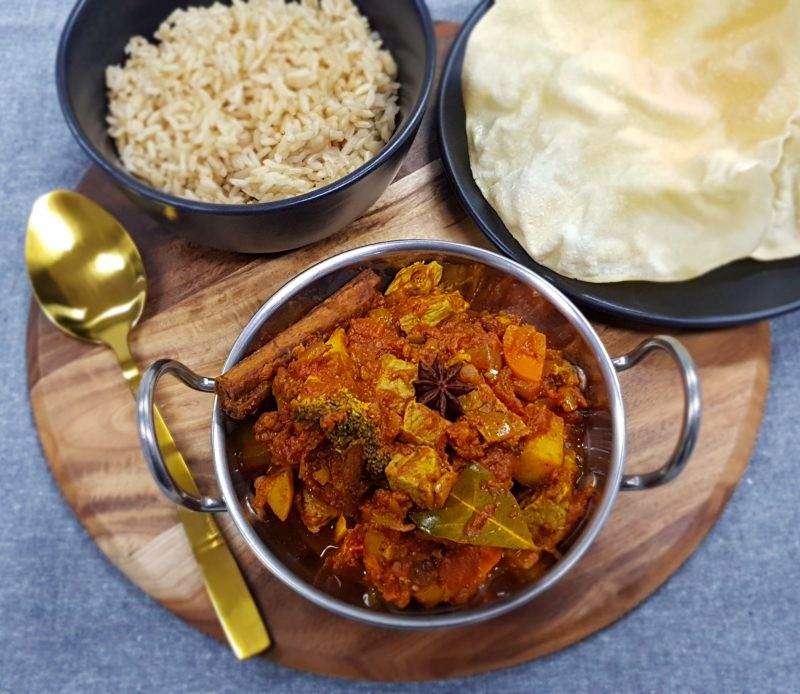 Tomato Tadka Curry
Ingredients
2 large Onions
4-5 medium fresh Garlic Cloves
Fresh Ginger
2 small fresh Red or Green Chillies
4-5 Cloves
1 Star Anise
2-3 Bay Leaves
2 sticks Whole Cinnamon
2 tins Absolute Organic Diced Tomatoes
3 teaspoons Absolute Organic Turmeric Powder
3 teaspoons Garam Masala
2 teaspoons Ground Coriander
2 teaspoons Ground Cumin
1 large Carrot - chopped
3 small Potatoes - chopped
1/2 head Broccoli - chopped
Absolute Organic Coconut Oil for cooking
450g Diced Beef (or Diced Tofu)
Instructions
Peel and finely dice both onions then set aside.
Deseed and roughly chop the chillies. Peel the garlic and ginger (use roughly the same amount of both) and cut into small chunks. Place chillies, garlic and ginger into a blender and blend into a smooth paste.
Put 2-3 tablespoons coconut oil into a large pot with cloves, star anise, bay leaves and cinnamon sticks. When the cloves begin to lightly crackle, add the onion and cook until onion becomes brown.
Once onions are ready turn the heat down and add 2 teaspoons of the chilli, garlic and ginger paste and fry together for a few minutes.
Add the meat or tofu, vegetables and remaining garlic paste and fry again for about 5 minutes, stirring frequently.
Now add the diced tomatoes and spices, stirring in between adding each spice. First add the ground coriander, then the garam masala, next the cumin and finally the turmeric powder.
Cover the pot so a small gap remains and allow the curry to simmer for 60-90 minutes on a low heat.
Serve with rice, papadums or naan bread.