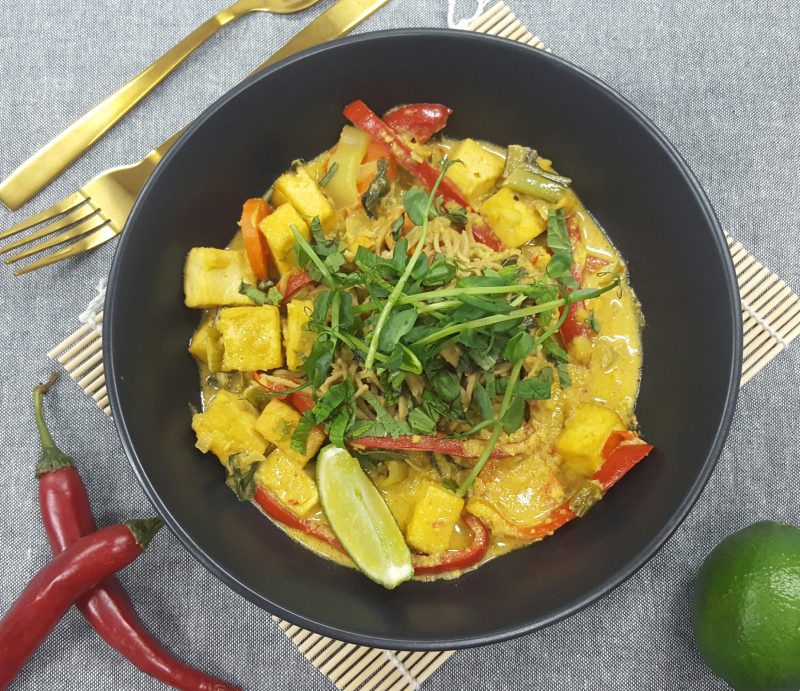 Vegan Laksa
A delicious and aromatic dish perfect for a cooler day.
Ingredients
LAKSA PASTE INGREDIENTS
1 Organic Red Chilli – seeded and sliced
1/2 Organic Onion - diced
1 Organic Lemongrass Stalk - chopped finely
1.5cm piece of Organic Ginger – sliced finely
1-2 Organic Garlic Cloves - chopped
1/2 teaspoon Organic Ground Coriander
2 tablespoons Organic Lime Juice
1/2 teaspoon Organic Paprika
1/2 teaspoon Organic Cumin
1/2 teaspoon Absolute Organic Turmeric Powder
1/2 teaspoon Absolute Organic Black Pepper Powder
1 teaspoon Absolute Organic Coconut Sugar
A small handful of Absolute Organic Raw Cashews
1 teaspoon Absolute Organic Tamari
1 tablespoon Absolute Organic Sesame Oil
LAKSA SOUP INGREDIENTS
1 Organic Red Capsicum – sliced lengthways
1 large Organic Carrot - sliced
1 bunch Organic Bok Choy - chopped
Slices of Organic Lime
Large handful Bean Sprouts
1/2 cup fresh Organic Mint Leaves – finely chopped
1/2 cup fresh Organic Coriander – finely chopped
1 tablespoon Absolute Organic Sesame Oil
2 cups Absolute Organic Coconut Milk
1 cup Absolute Organic Coconut Cream
350g Nutrisoy Plain Tofu - cubed
1 packet of your favourite Organic Noodles (we used Eco-Organics Edamame Spaghetti)
1 tablespoon Absolute Organic Coconut Sugar
Instructions
LAKSA PASTE : Place all paste ingredients into a blender and blend into a fine paste. Set aside ready to use for the Laksa Soup.
LAKSA SOUP: Prepare your noodles and cook them according to their directions on the packet you have chosen whilst you cook the soup for the laksa.
Heat sesame oil in a large wok and cook tofu until lightly golden. Set aside leaving the oil in the wok.
Add the Laksa Paste and fry until fragrant. Add the coconut milk and cream and stir together well.
Add the red capsicum, carrot and bok choy to the mixture and cook until veggies are mostly tender, about 5-10 minutes.
Add the cooked tofu and coconut sugar and stir together well.
Divide noodles between the four bowls and ladle Laksa Soup on top. Garnish each bowl with bean sprouts, mint leaves, coriander and lime.