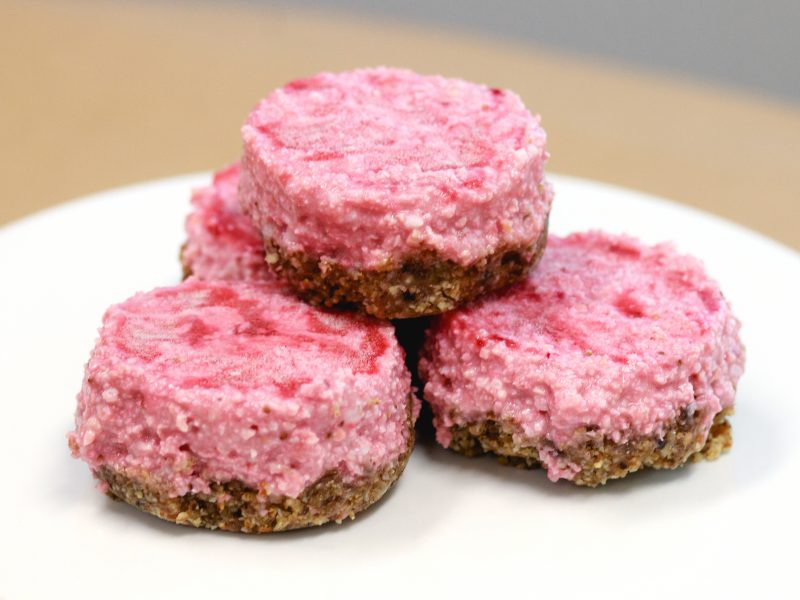 Vegan Strawberry Cheesecake Bites
These vegan cheesecake bites are perfect for an after-dinner treat with less calories.
Ingredients
Ingredients Crust:
1 cup Absolute Organic Pecans
6 large Absolute Organic Pitted Medjool Dates
¼ cup Absolute Organic Shredded Coconut
¼ teaspoon Salt
Ingredients Filling:
1 cup Absolute Organic Cashews (soaked for 3 hours)
1 ½ cups sliced frozen Strawberries
¼ cup Absolute Organic Agave Syrup
¼ cup melted Absolute Organic Coconut Oil
2 tablespoons Lemon Juice
Instructions
Make the crust: Soak dates in warm water for about 10 minutes.
Drain the dates then blend all crust ingredients in a food processor until well combined and mixture is sticking together on its own.
Press about 1 tablespoon of mixture into the bottom of each muffin cup and set aside. To avoid sticking you can line the bottoms with baking paper or use muffin cases.
Make the filling: Drain and rinse cashews then blend them in a food processor with half the frozen strawberries, agave syrup, coconut oil and lemon juice. Make sure the mixture is well combined and smooth.
Place filing into a bowl and set aside.
Allow other half of frozen strawberries to thaw at room temperature then blend together to form a purée.
Assemble cheesecakes: Place about 1 tablespoon of filling mixture on top of each cheesecake crust.
Place a dollop of strawberry purée on top of filing and using a toothpick swirl the purée around to create a fun pattern.
Freeze the cheesecakes for 1-2 hours until solid. Allow them to thaw for 10-15 minutes before serving.